New Ross has much to offer boating enthusiasts travelling up the estuary from the Irish Sea or indeed via one of the three sister rivers – the Barrow, the Nore and the Suir.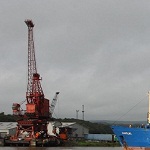 The banks of the river close to the town centre are home to The Three Sisters Marina, the Dunbrody Famine Ship, New Ross Boat Club and New Ross Boat Yard. New Ross is also home to a number of river festivals.
The Three Sisters Marina has berths available for vessels up to 13.5m, close to the centre of the town and with CCTV coverage and a dedicated marina manager. All details can be found at : www.newrossmarina.com
North of O'Hanrahan Bridge is New Ross Boat Club which has a dedicated slipway for launching boats. Its pontoon ensures easy access for other leisure craft including rowing boats, ribs, canoes and jetskis.
New Ross Boat Yard offers dry dock storage (75m x 15m) and boat storage as well as repairs and sales.
The Dunbrody Famine Ship is a popular tourist attractions on the river at New Ross.
The now decommissioned railway line impacted on the port's shipping trade in the late 19th Century. However, works have commenced, which will transform this line into a new Greenway, that will link the Town of New Ross with Waterford City along a scenic 24km of dedicated cycleway. It is envisaged that a passenger ferry service which can also carry bicycles will operate between New Ross and Waterford to enhance the tourist offering in the area.